s/y Genesis
Best vacation on Earth ............
......... is not on earth
Luxury yacht charters FOR TWO (and ONLY TWO !)
On 47' sailing catamaran In The Windward Islands


Are you and your loved one looking for that dream vacation
of a lifetime ? ….……………. Look no more !!!

Are you searching for that perfect way to celebrate your
anniversary, birthday or a honeymoon in a tranquil and
exotic place ? ……………..... Search no more !!!

Are you in need of escape from everyday hustle and bustle,
ready to treat yourself to ultimate getaway in the tropical
paradise ? ……… You found the right place !!!


Welcome aboard GENESIS - the one and the only sailing catamaran in the whole Caribbean that offers luxury, all inclusive sailing vacation for a couple. Yes, that is right. One couple is all we take. The only way we do it. Sure you have searched through dozens of other similar sized charter catamarans in the Caribbean , some of them taking up to 8 guests at a time. Not so on GENESIS. We are not after the quantity, the quality is what's on our mind.

GENESIS is designed as "owner's" version catamaran. As a result the entire starboard hull will become your home away from home. With king sized air conditioned bedroom, enormous bathroom, lots of cabinet storage (so you do not have to live out of your bags) you will enjoy the comfort and privacy you could otherwise find only on much larger yachts.

The cruising area we have chosen for GENESIS are Windward Islands with focus on The Grenadines. We have spent many years in the Caribbean and in our opinion this area still maintains the true island spirit, local customs and traditions. All that plus pristine aquamarine water, white sand beaches and deserted islands make it a perfect destination for your dream holiday in the Caribbean. Where else could we guarantee you a swim with the turtles? And we do not mean some tourist attraction - this is for a real.

If you like wild parties and loud music long into the night - The Virgin Islands are probably a better destination for you. But if you are after tranquil quiet anchorages, pristine white beaches where you can find yourself all alone and abundance of marine life that you can explore while swimming in the turquoise blue waters of Caribbean reefs - come with us. We want to share with you the best that Caribbean can offer.

Your whole vacation is customized to satisfy your every wish, whim and taste. Our goal is to pamper you and spoil you rotten, so you will come back for more. Speaking of the tastes - get ready for the feast not just for your stomach, but just as equally for your eyes. All meals are prepared from the freshest available ingredients.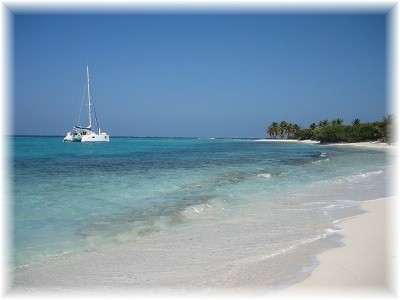 Leave your business suit behind. Trade in those stiletto heels for a pair of flip flops. It's time to kick back and relax . Leave your worries in our wake as GENESIS sails you comfortably through the Caribbean seas.

Let us help you create your own dream vacation.
We look forward to seeing you soon .......
............ and don't forget your flip flops.